UPDATE: Richmond City Council has listened to the many community voices saying #NoIHRA; the motion to adopt the IHRA was withdrawn prior to their Dec. 19 meeting.
This is a victory for Palestinian rights and free speech. Great effort by all those who worked to achieve this outcome.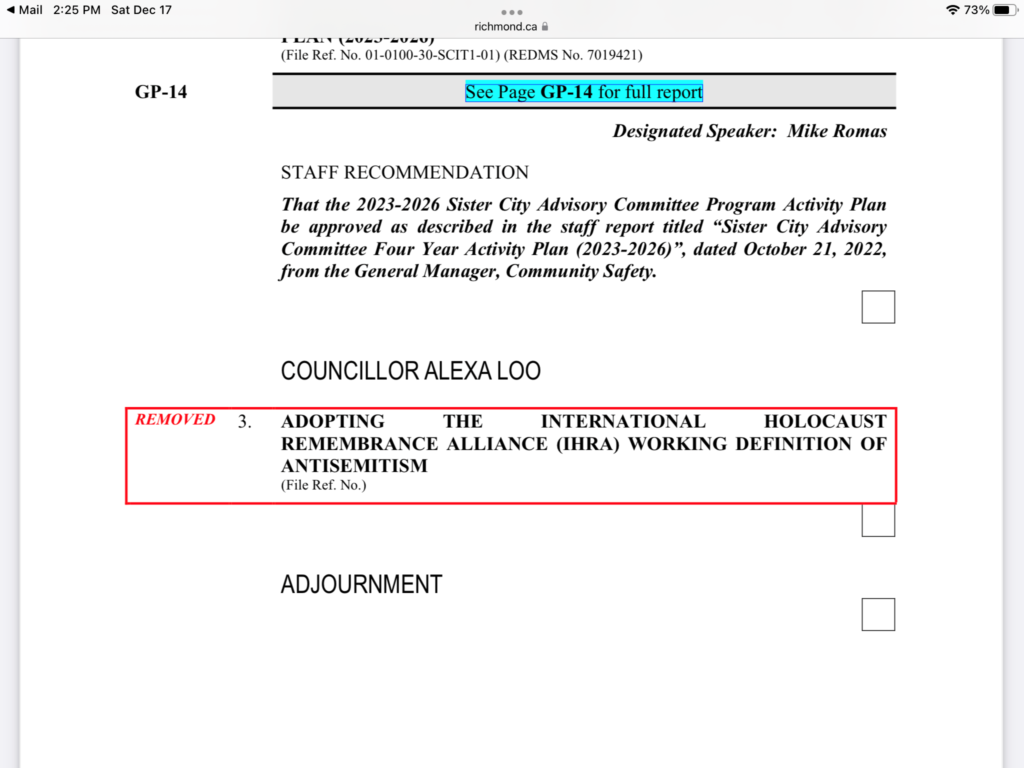 Following is the text of a letter sent by CPA Chair on December 16, 2022.
Dear Mayor and Richmond City Councillors:
My name is Hanna Kawas, and I am writing to you as a Canadian Palestinian and the chairperson of Canada Palestine Association.
I'm urging you to oppose motion GP-57 to adopt the IHRA definition of anti-Semitism, currently before Richmond City Council. Although the motion insists that the IHRA definition is "non-legally binding", its illustrative examples clearly aim to intimidate and silence criticism of Israel and tells Palestinians our voices are not valued.
You may have been led to believe that this motion will aid in the struggle against anti-Semitism (although there are authoritative voices disputing the IHRA's efficacy in that regard). What you may not know, however, is that this motion will end up contributing to another form of racism, anti-Palestinian racism. It is flawed to claim that you are fighting against one form of racism by reinforcing another one; we must unite to fight against all forms of racism.
This motion if passed will tell me that I am not allowed to criticize the very ideology, Zionism, that resulted in the dispossession of my family and my nation. We know our lived experience, and we know the racism we have endured both in our homeland and in diaspora. Seven out of the eleven IHRA illustrative examples mention Israel by name; as such, the IHRA seems to have more to do with covering up for Israeli war crimes than dealing with hatred against the Jewish people. We will continue to speak out forcefully and reject the concept that our narrative must be constricted and restrained. Or are we to be treated differently?
As Palestinians, most of us are not here by choice; we have been dispossessed from our ancestral homeland and forced to find refuge wherever we could. I am a Palestinian Christian refugee from Bethlehem who can't return to my hometown due to Israeli apartheid policies; my own extended family has members in multiple countries. It is not enough that Israel limits our ability to celebrate Christmas (and all religious holidays) in our homeland; your council has chosen this time of year to consider adopting a motion that further censors the Palestinian narrative and our stories.
It isn't just polemics for Palestinian Canadians to reject the IHRA and to say that our peoples' voices cannot and must not be erased. It is a matter of inalienable national rights and survival. Just a week ago, on December 11, a 15-year-old Palestinian girl was shot dead on the roof of her home by an Israeli sniper in Jenin in the occupied West Bank. And earlier this year, the Palestinian American journalist Shireen Abu Akleh was also murdered in Jenin by Israeli military forces.
We join with our progressive allies in the Jewish community, the indigenous community, and other B.C. human rights organizations in opposing adoption of the IHRA definition. Allow me to leave you with one message: if you pass this motion, you are institutionalizing anti-Palestinian racism. Regretfully, you would show that Richmond is not representing the diverse nature of its many inhabitants and is failing to combat all forms of racism.
Regards,
Hanna Kawas, Chair
Canada Palestine Association