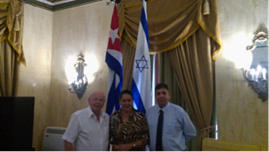 New articles in Mondoweiss and Palestine Chronicle
"Cuba Should Not Normalize with Israeli Settler Colonialism"
By Hanna Kawas & Marion Kawas
With sadness and outrage, we recently learnt from the Israeli press about the visit of the Jewish National Fund (KKL-JNF) delegation to Cuba.
At the beginning of 2018, we became aware of some incidents indicating that Cuba might be on the road of normalizing relations with Israeli apartheid. Out of respect for Cuba's image, and the rift this might cause with the progressive Palestinian struggle for liberation and its supporters, we pursued our concerns privately with a letter addressed to Cuban officials. Although we did not receive even an acknowledgment of our letter, we were not aware of any further normalization actions since that time. Until now.
With this latest news about Cuba normalizing with the most racist Zionist institution, the JNF, that was responsible for the ethnic cleansing of Palestinians, the theft of their land and destruction of their habitat and environment, we feel compelled to release the letter we sent on January 31, 2018 under the title "Expanding Cuba-Israel Relations".
——————————-
Dear Friends:
As long-time supporters of Cuban-Palestinian relations and admirers of the example and spirit of the Cuban people and their revolution, it is with a heavy heart that we are forced to write this letter. We are approaching you privately about this issue, rather than publicly, out of concern for the wellbeing of the progressive movement and our common struggles. In October, 2017 Israeli Culture Minister Miri Regev (who is a documented neofascist) was reported as travelling to Cuba, the first Israeli cabinet minister to do so since 1973. This strange news forced us to do more research which revealed a distressing and disturbing trend in the last few months of new expanding Cuban-Israeli cultural and business relations. Along with Regev's trip, most of these fall into the category of being "the first of its kind" in four decades or longer.
For example on the cultural front:
In early November, Cuba's famed Lizt Alfonso Dance Company gave four sellout performances at the Tel Aviv Opera House, followed by concerts in Ashdod, Jerusalem, and Haifa. It was the first cultural visit of its kind to Israel in four decades. Cuba's famous Buena Vista Social Club also made a tour of Israel in late December, 2017.
And on the business front:
On Nov. 9, the Israel-Latin America Chamber of Commerce held a "Doing Business in Cuba" seminar in Tel Aviv. Attended by 40 or so Israeli business executives, the three-hour briefing, presented in Hebrew, was a prelude to the planned visit to Cuba of an Israeli trade delegation this December. And indeed the Israeli trade delegation made their trip to Cuba Dec. 5-7, 2017 where according to CamaraIsrael:
"The Israel-Latin America Chamber of Commerce, for the first time in its history, sent a delegation of businessmen to Cuba. The delegation was received by the Cuban official bureau at a festive ceremony and a business seminar with the government officials at the National Hotel."
We are also aware that former Israeli general and war criminal Rafael Eitan, who has had private business interests in Cuba for over 20 years, has been credited with helping to facilitate this new state-to-state Cuban-Israeli exchange.
We are sure you know about the Palestinian Boycott, Divestment and Sanctions (BDS) Movement that calls for both a cultural and business boycott of Israel. We know that the Oslo accords and the behaviour of the current "Palestinian Authority", that dropped the anti-colonialist struggle from its agenda, has set the bar low, very low, regarding what kind of support is needed. And we realize that the impact of the economic blockade on Cuba, as well as the recent damage from Hurricane Irma, has been devastating. But we also know that Cuba and its people have a long history of principled positions even when such decisions are difficult or carry a pricetag.
The picture at the top of this letter is from the December 2017 trade delegation visit and is a chilling visual for all progressives. We are aware that Cuba's position on the political front is always supportive of the Palestinian cause, but as the beacon of progressive action in Latin America, we urge you to ensure that Cuba's deeds on all fronts line up with your political support as it did with the anti colonialist struggles in Southern Africa. We beseech you, in the name of the Palestinian struggle, in the name of the unity of two steadfast peoples, to investigate these recent actions and take steps to ensure that such exchanges are not repeated and go no further. Please do not develop any ties with what the late and beloved Fidel Castro in 2014, when referencing Israel, called a "new, repugnant form of fascism".
In Solidarity,
Hanna Kawas, Chairperson
Canada Palestine Association