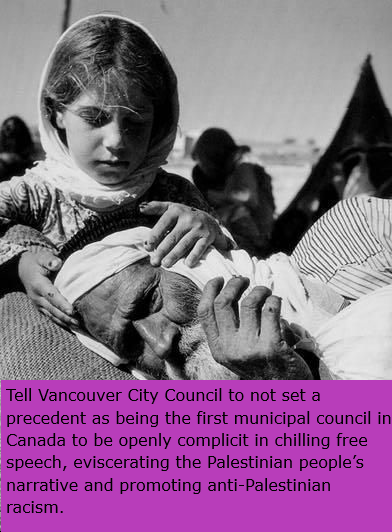 Update:
In a vote of 6-5 (the dissenting 5 were all NPA councillors), the Vancouver City Council did not adopt the motion and referred it to committee for recommendations on how to combat all forms of racism. Councillor Michael Wiebe was quoted as saying that "we need a policy that tackles all forms of racism, including white supremacy. It's too important to get this wrong."
For detailed background on the campaign and the vote, check the Mondoweiss article:
In victory for activists, Vancouver city council votes against adopting IHRA antisemitism definition
By Marion Kawas.
——————————–
The following letter was sent today to Vancouver City Councillors and Mayor, regarding an upcoming and dangerous motion to adopt the IHRA definition of anti-Semitism. We have been moved and encouraged by the grassroots opposition to this motion from a broad cross-section of people in Vancouver, and encourage everyone to send an email to Council or sign up to be a speaker (instructions here). A special thanks to COPE, who have endorsed the campaign against the motion and asked everyone to help in defeating it. Join us to tell Vancouver City Council to not set "…a precedent as being the first municipal council in Canada to be openly complicit in chilling free speech, eviscerating the Palestinian people's narrative and promoting anti-Palestinian racism."
Dear Councillor:
I am writing to you as a Canadian Palestinian and the chairperson of Canada Palestine Association-Vancouver. I have lived much of my adult life in Greater Vancouver after first immigrating here in 1974, and like the rest of my community, have struggled to live in dignity while navigating and going beyond the difficulties of immigrant life. My daughter and granddaughter were both raised here, and currently reside in East Vancouver.
I'm asking you to oppose the motion, 'Combatting Antisemitism in Vancouver', by councillor Kirby-Yung, coming before council on July 23. This motion if passed will make us feel unwelcome in this city and tell us our voices are not valued.
As Palestinians, most of us are not here by choice; we have been dispossessed from our ancestral homeland and forced to find refuge wherever we could. We have been cast to the four corners of the world; my own extended family has members in multiple countries. I hold the deed to our family's property in Bethlehem, my birthplace; but due to Israeli policies that are supported by Canada, in flagrant violation of the UN resolution reaffirmed annually, I am not allowed to live there. Why? Because I am a Palestinian Christian and a 1967 war refugee. This motion if passed will tell me that I am not allowed to criticize the very ideology, Zionism, that resulted in the dispossession of my family and my nation; that is both unfair and equally racist in itself.
You may have been led to believe that this motion will aid in the struggle against anti-Semitism. What you may not have heard is that this motion will also end up contributing to another form of racism, anti-Palestinian racism. It is flawed to claim that you are fighting against one form of racism by reinforcing another one; we must unite to fight against all forms of racism.
You may have also been told that this is just a "non-legally" binding motion but it has been made clear that passing this motion is just the beginning of a process. Bnai Brith has already put on record that the Canadian government's initial adoption was a good first step, but must be followed by enforcement protocols. "We will be looking for concrete actions, however, to give its implementation substance and meaning. B'nai Brith will be writing to (Pablo) Rodriguez and his colleagues to reiterate our specific ideas on how that can be done."
This is the same B'nai Brith that slandered me, along with my Jewish friend Sid Shniad, in its 2016 yearly report on Antisemitic Incidents (Academic Antisemitism section), and completely misrepresented what was said at a joint workshop we presented in October 2016. The workshop was part of a broader Genocide Conference at SFU Vancouver Campus and was delivered to a full house, despite pressure to have it cancelled. This is just one local example of erroneous judgement on what constitutes anti-Semitism and demonstrates how legitimate political discourse about Israel is targeted.
As the BC Civil Liberties Association noted in their opposition to the IHRA definition: "We fear that if adopted, the IHRA definition will serve to severely chill political expressions of criticism of Israel as well as support for Palestinian rights."
Most of our community is already terrorized by anti-immigrant, anti-Palestinian or anti-Muslim rhetoric. Some are even hesitant to admit their heritage to others, afraid that it may hinder their job prospects or relationships. Passing this dangerous and unnecessary motion will only further that alienation; what a crime that a child has to see their parent hide from the world who they are and where they came from. Not from shame, but from fear.
If this IHRA definition is passed by Council, and Palestinians in the future are told to limit or dismiss their lived history, then our worst fears have been realized. Vancouver City Council will then go down in history as setting a precedent as being the first municipal council in Canada to be openly complicit in chilling free speech, eviscerating the Palestinian people's narrative and promoting anti-Palestinian racism.
Hanna Kawas
Chair, Canada Palestine Association