Send your letter now to support the campaign.
The campaign in British Columbia to Tell the BC Govt to Pull Israeli Apartheid Wines is gaining momentum. On March 26, activists were out on the streets in both Victoria and Vancouver to once again highlight the complicity of the BC government in Israeli war crimes. Both cities carried banners and signs calling on consumers to not support Israeli apartheid, and hundreds of flyers were handed out.
Further, over 800 concerned people have signed our action network letter that was started recently: the on-line version has collected 782 signatures so far and a further 47 signatures were collected when folks signed the letter in-person on March 26.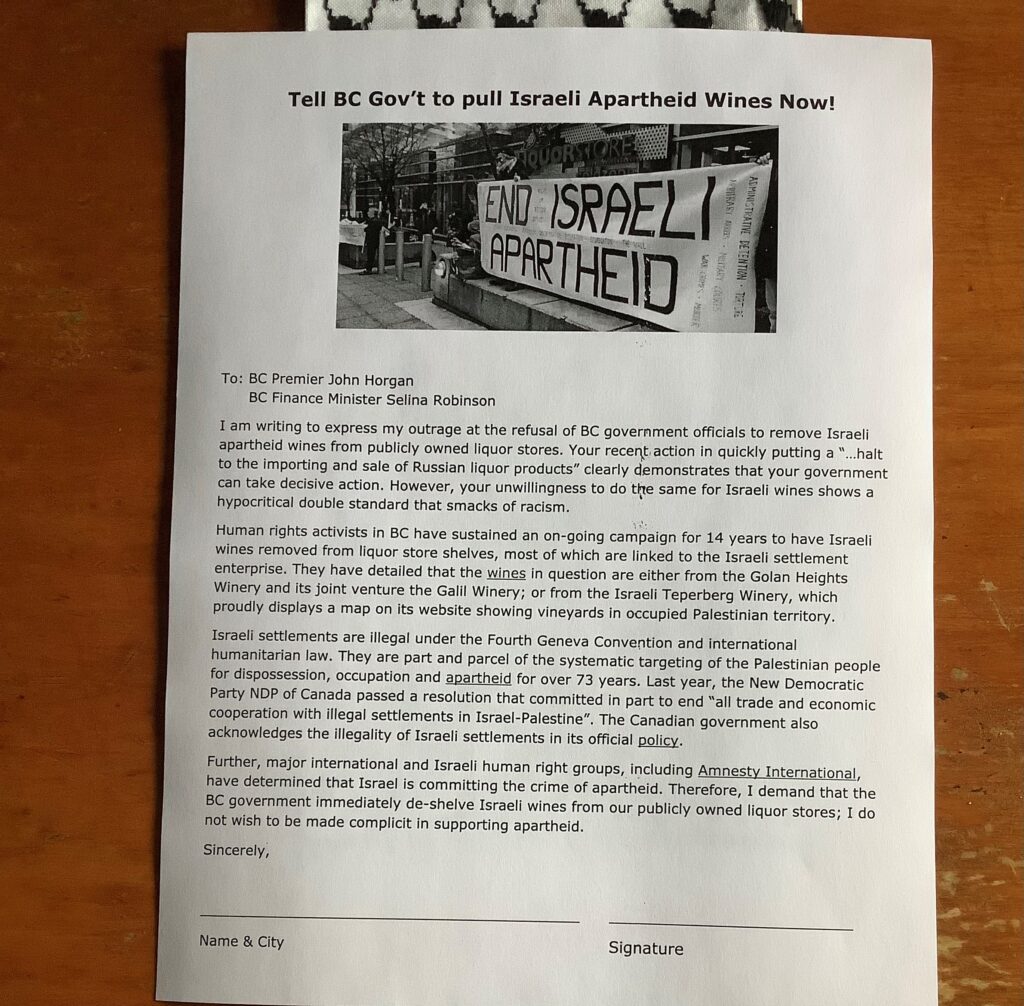 Friends of the Campaign
There is also a new "Friends of the Campaign" initiative, which will highlight notable friends and allies who have endorsed our letter campaign to "Tell BC Govt to Pull Israeli Apartheid Wines!". Here is our initial list to date:
Anne Roberts
(former Vancouver City Councillor)
Dimitri Lascaris
(Lawyer, journalist and activist)
Earle Peach
(Director, Solidarity Notes choir)
Jayce Salloum
(Artist and curator)
Jean Swanson
(Vancouver City Councillor)
John Soos
(PhD, clinical psychology)
Kevin Neish
(Retired vocational instructor, Mavi Marmara survivor)
Khaled Barakat
(Palestinian-Canadian writer and activist)
Khaled Loutfi Mouammar
(Palestinian Christian denied the right to return to his homeland because he is a non-Jew/Served on the Immigration and Refugee Board of Canada 1994-2005)
Kimball Cariou
(former editor of People's Voice)
Libby Davies
Natalie Knight
(Indigenous (Diné and Yurok) organizer and Chairperson of Friends of the Filipino People in Struggle)
Noah Gotfrit
(Musician, WCCARS member at large)
Rehab Nazzal
(PhD, Artist and Lecturer, Simon Fraser University, Vancouver)
Rev. Marianna Harris
Rifat Audeh
(Canadian award-winning filmmaker and human rights activist)
Roger Waters
(Musician)
Sid Shniad
(Founding member, Independent Jewish Voices Canada)
Stephen Aberle
(Member of Independent Jewish Voices – Canada)
Sunera Thobani
(Professor, University of British Columbia)
Tim Louis
(Lawyer and former Vancouver City Councillor)