Press Release – Thousands call on Ballet BC to Not Perform in Israel
#NotOurAmbassadors
Update Oct. 31, 2018 – New article in Mondoweiss about the campaign, with the names of the other 2 dance companies involved finally released
Oct. 21, 2018
Earlier this month, BDS Vancouver activists launched a campaign after learning that Ballet BC was planning to perform in Israel in January, 2019. The petition that was started has now garnered over 4200 signatures, with a clear call to Ballet BC to not be complicit in helping Israel cover up its war crimes. Under the heading, "Tell Ballet BC, Don't Dance on the Ruins of Palestinian Childhood", the petition focused on examples of what performing in Israel would artwash, from the still pending demolition of Khan al Ahmar to the reduction of Gaza to an unliveable nightmare.
Ballet BC refused to answer, or even acknowledge, emails from the petition organizers and supporters, but they did send a statement to the media after the story was picked up by a Canadian media outlet. They said in part: "We have been invited to perform as a part of "CanaDance 2019," a festival supported by the Canadian Embassy in Tel Aviv at the Suzanne Dellal Centre along with two other Canadian dance companies. We are honoured to be a part of this festival and to serve as ambassadors for British Columbia and Canada."
However, a notice posted recently on the Suzanne Dellal Centre website shows only Ballet BC as performing. So, either the two other Canadian dance companies Ballet BC referred to have decided not to participate, or prefer to remain nameless for whatever reason. The website also does not yet show any sponsorship from the Canadian Embassy in Tel Aviv, but given statements by Ambassador Deborah Lyons who has been acting as a public relations advocate for Israel with her ridiculous #WowIsrael campaign, embassy sponsorship would not be a surprise.
The grassroots response to the petition, and some of the moving comments made by supporters, have been truly remarkable. This issue of Ballet BC performing in Tel Aviv, for a minimum ticket price of around $100 Canadian, while Palestinian kids in Gaza have only four hours of electricity per day and others are routinely arrested, beaten and live in fear of losing their homes and futures, seemed to hit a chord with British Columbians.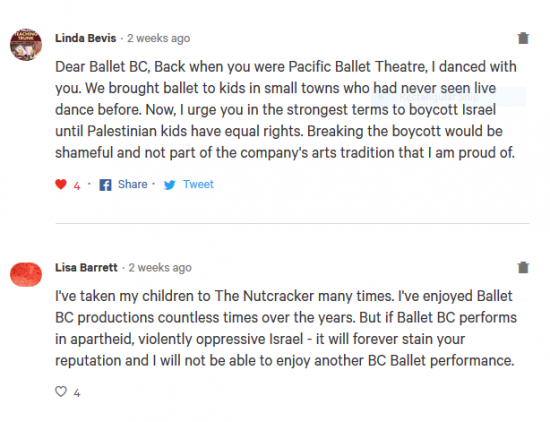 As petition commenters also noted, ballet is a beautiful art form, emphasizing freedom of movement but this is all the more reason that it cannot and should not be used to whitewash Israeli war crimes. And an open letter stated: "You may feel that art transcends politics and I wish that was the case. But if your performances in Israel will be used (as so many others before you have been) as ammunition for a government desperate to improve its international image, then you have entered into the world of politics whether you are aware of it or not."
Campaign organizers are calling on Ballet BC one more time to take a stand and not perform in Israel, which would be a permanent stain on their record.
Canada Palestine Association